Houseboats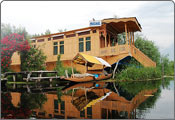 The state of Jammu and Kashmir has became a great tourist destination because it has developed and taken care of its uniqueness in a perfect manner. Houseboats in J&K serve as the best meduim to fulfill your dream of staying as close to nature as possible. They have made people's fantasy of living on the water come true. Facing the majestic Himalayas and offering the pleasant sounds of rolling waters, these houseboats are the greatest attraction in Kashmir.
One can experience the stunning beauty of these houseboats and the natural surroundings on Dal Lake, Nagin Lake and Jhelum River. Houseboats as old as 50 years can also be seen in Kashmir. Earlier used by the people of fishing communities only, these boats today are not merely a tourist attraction rather a place where the use of unique Kashmiri handirafts can be seen (in furniture, carpets etc.). They are completely made of wood and provide guests with homely environment, quiet surroundings and enchanting views outside. Quite similar to a fully furnished house, they offer you proper living rooms, drawing and dining rooms, carved wooden furnitures, and beautifully decorated interiors.
Generally you will find two or more bedrooms with attached bathroom, common eating-place and a balcony. The interiors are decorated in typical Kashmiri style with vibrant colors and art. A few boats may have a separate cook boat attached to the main houseboat that serves a variety in Chinese, Continental and authentic Kashmiri dishes. You can find a wide variety of houseboats and you can easily find the one that suits your requirements.
Firdous: These houseboats are very grand and huge in their looks as well as construction. The royal Firdous has three double bedrooms with attached bathrooms, hot and cold water, living room. There are proper facilities for electricity and cooking. The balcony space is big enough to seat a group of friends. The interiors are decorated with Kashmiri handicrafts. The silent atmosphere, breathtaking natural beauty and the homely comfort is capable of providing freshness to any exhausted traveller.
Kushal: Khushal is comparatively smaller than Firdous. It has two double bedrooms and all other desired comforts similar to a three or four star hotel room. The design of the rooms and furniture is unique. It is perfect for family holidays.
Nishat: Nishat is the favorite houseboat for honeymooners. It comprises of one double bedroom and offers all the comforts of privacy, facing the lake.
Kushdil: Kushdil is again the favorite of newly wed couples or honeymooners, and it too has one double bedroom. It has all modern facilities for its guests.
Gulshan: It is a two double bedroom boat with a verandah in front. Meant for family vacations, this houseboat provides outstanding view of the snow clad peaks from the verandah.
Clermont Too: Another two double bedroom boat, the Clermont Too offers vacations with ultimate cozy atmosphere and privacy. It is perfect for those who love to spend their holidays on waters in solitude.
The credit for initiating the trend of living in a houseboat in Kashmir goes to the British residents who were prohibited to own land by the Maharaja of Kashmir. As a result, they built their residences on water. Today, it is more than just a house on the lake. Almost all the major rivers and lakes in Kashmir offer houseboat cruises to the tourists. These houseboats can also be used for shikara rides (simply wandering in the lake), or sunbathing on the top-deck.